What You Don't Know CAN Hurt You!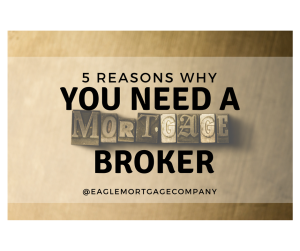 Just this week, we saved one of our clients $2,500 on their refinance. $2,500.00! Over the past weeks, we've saved our clients, $300, $500, even $700 per month on their mortgage payment. How is that possible? Because they almost went directly through a lender to refinance their home instead of using our mortgage brokerage services.
We're reminded almost daily here at Eagle Mortgage how misunderstood our business is. People don't understand what a mortgage broker is. People don't understand what mortgage brokers can do (as compared to mortgage bankers and even lenders). People don't understand the value of using a mortgage broker like us.
And whose fault is it that people don't understand what we offer? It's ours. We haven't done a good job of explaining the extreme value of using mortgage brokerage services.
So, let's spend a few minutes talking about what we do for our clients…
Raise your hand if you like getting the best deal you can on purchases you make. From refrigerators, to cars, to tvs and couches. Most likely, you don't just walk into a store and purchase the first one you see. You shop around, you look online, you comparison shop. Do you know why websites like Amazon, Kayak and Geico have experienced such tremendous success? Comparisons. Choices.
So, for the largest and most important investment of your life, don't you want to be able to compare? To find the best loan program, the best rate, the best pricing for you and your family?
Of course you do.
That is what we offer here at Eagle Mortgage. We offer choices. We compare for you. We service a variety of lenders for the sole purpose of finding our clients the best deal on their purchase or refinance.
Mortgage brokers are misunderstood. And because our business is misunderstood, families are missing out on thousands in savings when they purchase or refinance their homes.
Here are 5 FACTS about mortgage brokers that you need to know:
1. Mortgage brokers specialize only in home loans and are commission-based. It's in their best interest to get you the best rate possible — or they don't get paid.
2. Most mortgage brokers have a large network of lenders that they work with to find you the most favorable mortgage rates and pricing. Here's the deal, the more lenders you have competing for your home loan, the more you end up saving in the end. Mortgage brokers offer the most lender options for you, their client.
3. Mortgage brokers work one-on-one with each individual client. They spend time with each unique client, evaluating their specific needs and then finding a lender that suits them the best. Providing personal service to their clients all the way to closing.
4. At the end of the day, mortgage brokers save you the hours of research finding the best mortgage rate and terms for your specific needs.
5. Banks, however, deal with all types of loans and may not have the specialization in home loans that a mortgage broker has. Plus, loan officers at banks are often limited to certain home loan products and criteria that they are required to follow. This limits the home loans available to you as their client. Plus, banks don't have a network of lenders. Every home loan application the bank receives is from one lending institution. In addition, mortgage brokers can many times find a lender who accepts home loans that a bank won't touch.
If you have questions, we understand.  Give us a call (972-382-1176) or shoot us an email…we are here to educate and help.  No obligation.  We are in this business to look out for YOUR best interest!
EAGLE MORTGAGE COMPANY
Company NMLS# 872948
eaglemortgagetx.com
Office: 972-382-1176
202 Coleman Suite 300
Prosper, TX 75078